4
Portal - Billing Page
This article explains what you can do in the billing tab of the online portal.
What you can do on this Page
There are different settings you can adjust on this page. We will go through each category and what you can do.
Due Date
This section will show you how much is to be billed per month and which date it will pull on. In addition, it will show when is the next billing date.
 If you need to adjust your billing date:
Click on "Change"
Choose the new date.

Please note If the date you are choosing has already passed for this month, it will offer 2 options for proration.
If the date hasn't happened this month within the month, it will advise you that it will bill for this month what the prorated amount will be and what the normal payments will be afterward.

Click on "Set New Date" to save the desired date.
Payment Methods
This section shows the current card on file including The name of the cardholder, Card brand and Last 4 of the card, Expiration of the Card as well as an option to "See the billing address". In addition to adding a new card.
If you need to add a card:
Click on "Add Additional Card"
Fill out the required information including the name on the card, full card number, expiration date, and CVV code.
If the billing address for that card is different than the monitoring address, click on the box "Billing address is different than monitored address"
Fill out the required billing address (if applicable)
Once the information is filled out. Click "Save Card" to save that card on file.
Once saved, an indicator will pop up to indicate the card has been saved. If you need to make this card the primary card on file, click on "Make Primary".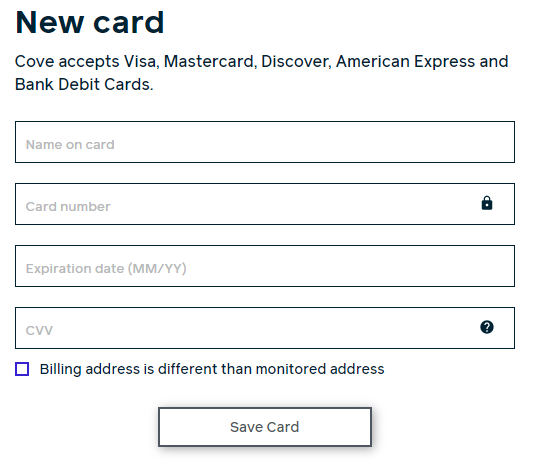 Balance Due
This section will show you your current balance due as well as how much it is per month and if the account is current or delinquent. You can make a payment and see the payment history.
To make a payment:
Click on "Make A Payment"
You can choose either to pay the current balance due or make a partial payment. If you want to pay the full amount, select "Pay Balance of $XX.XX"
If you want to do a partial payment. Select "Make a Payment" and enter your desired amount. Please be aware to put a period after the dollar amount before you put in cents, otherwise, it will attempt to pull it exactly as listed.
When you are done, click "Complete Payment"
A confirmation will appear to ask if you are sure to make a payment. If you agree, click "Yes".
If the payment was successful an indicator will appear that the payment was successful and your updated billing information should immediately reflect on this page.
FAQ's
What if the billing date doesn't actually reflect when it pulls from my bank?

Some banks may show the charge as pending as of the date it attempts to pull but may not accurately reflect it successfully pulling on that date. It is possible to show up on your bank statement a day or so later.
If it is way outside that window, please view your billing history and if there are any questions, please contact us.

How can I do a direct invoice?

At this time we can only offer Auto payments. We currently do not have the option for Paper/Email Invoices.

Can I remove any multiple cards online?

At this time we do not offer an option to remove any card information online. We ask you to please call us at 855-268-3669 and we would be happy to help you with that.

How do I make a bulk payment/pay early?

In those cases, we ask you to please call us at 855-268-3669 or you can chat in so long as it's with the card on file. At this time we do not offer that option online.
Was this article helpful?
4 found this helpful